Many Youtubers and Esports Players of BGMI ( BATTLEGROUNDS MOBILE INDIA) got the early access of this Game, and they are currently playing and looking out at the New game BATTLEGROUNDS MOBILE INDIA Early Access.
Krafton has released an early access build of Battlegrounds Mobile India on Google Play Store. If you are a tester or are extremely keen to know how the game looks and feels like, you can download it now. We have installed it on our phones and here we'll be sharing the gameplay experience too.
Also Read: BATTLEGROUNDS MOBILE INDIA: Early Access
Battlegrounds Mobile India Early Access News
Some users on Twitter have shared screenshots where the download can be seen in progress. Looking at the screenshot, it is clear that the Battlegrounds Mobile India is about 720MB in size. As already known, the open beta version is available on Google Play for Android users who registered their interest. At this point, it is not clear how Krafton chose select users to be beta testers.
For users who are eagerly waiting for the Battlegrounds Mobile India game but don't see a download button, don't get disheartened, as Krafton notes on its page that this is the app's testing programme. This means the game will be available to everyone when it is ready for a wider rollout.
As expected, the Battlegrounds Mobile India game takes a lot of visual cues from its earlier avatar PUBG Mobile, which got banned in India last year. Like PUBG Mobile, the Battlegrounds Mobile India will allow users to get into a team and participate in a battle royale game where multiple players join in fighting with the last man or team standing winning the battleground. The Google Play listing reveals that the game will offer multiple modes, like battle royale mode or a free fire fight and one-one TDM matches.
A step-by-step guide to downloading Battlegrounds Mobile India on Android devices
Users can follow the steps given below to download and install Battlegrounds Mobile India on Android devices:
Step 1: First, users must use this link to join the testing program for Battlegrounds Mobile India.
Step 2: Once they have become a tester, they should tap the "download" button on the Google Play option.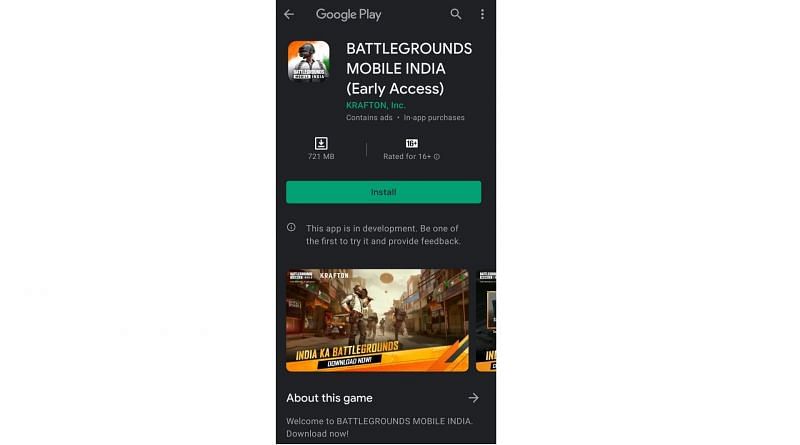 Step 3: Users will be redirected to the game's page on the Google Play Store.
Step 4: Tap the "Install" button. The game will be automatically downloaded and installed.
The size of Battlegrounds Mobile India on the Google Play Store is 721 MB. Therefore, users must ensure that they have sufficient storage space available on their devices before going ahead with the download.
About Battlegrounds Mobile India Game
Download BATTLEGROUNDS MOBILE INDIA for free and jump into an amazing array of maps, game-modes, and exciting challenges. You can go solo, or you can team up with your friends to answer the call of duty and take your enemies head on
[ INDIA EVENTS ]
BATTLEGROUNDS MOBILE INDIA is a new free game made for Indians. As promised, we come with an exciting array of Launch events to celebrate the week, and even beyond. As more and more players join the game, India Ka Battlegrounds event rewards you with a permanent purple outfit for free, so invite your friends and get set! There is more to come such as Weekend Vibes, Celebration Time, Friends for Life and much more with exciting rewards from outfits to weapon skins. Tune into the lobby and drop onto the battlegrounds today!
Set in a virtual world, BATTLEGROUNDS MOBILE INDIA is a new battle royale game where multiple players employ strategies to fight and be the last man standing on the battlegrounds. A free to play, multiplayer experience, in BATTLEGROUNDS MOBILE INDIA, players can battle it out in diverse game modes which can be squad based or solo.
[ INDIA'S FAVOURITE GAME ]
Featuring diverse maps with different terrains on a virtual setting, BATTLEGROUNDS MOBILE INDIA, utilizes the full capabilities of Unreal Engine 4 to bring alive fantastic worlds augmented by 3D sound, to build a truly immersive experience on a mobile phone. Pick your map and mode that suits you and get set for a thrilling ride.
More than pure combat, BATTLEGROUNDS MOBILE INDIA the free to play new game, is also a battle of wits, as you develop strategies to take on your enemies in a battle royale mode or a free fire fight or even a one-one TDM. Are you up for the challenge?
With detailed monthly new content updates, and world-class collaborations, there is always something to look forward to in this battle royale game. As we progress down the calendar, we will hear more and more feedback from you on India's favourite game, we will work with partners and bring exciting new collaborations your way.
Are you ready to experience #IndiaKaBattlegrounds? #BATTLEGROUNDSMOBILEINDIA
Requires a stable internet connection.
BATTLEGROUNDS MOBILE INDIA recommended system requirements: Android 5.1.1 or above and at least 2 GB RAM memory.
The app #BATTLEGROUNDSMOBILEINDIA is exclusively for players in India only, serviced by KRAFTON