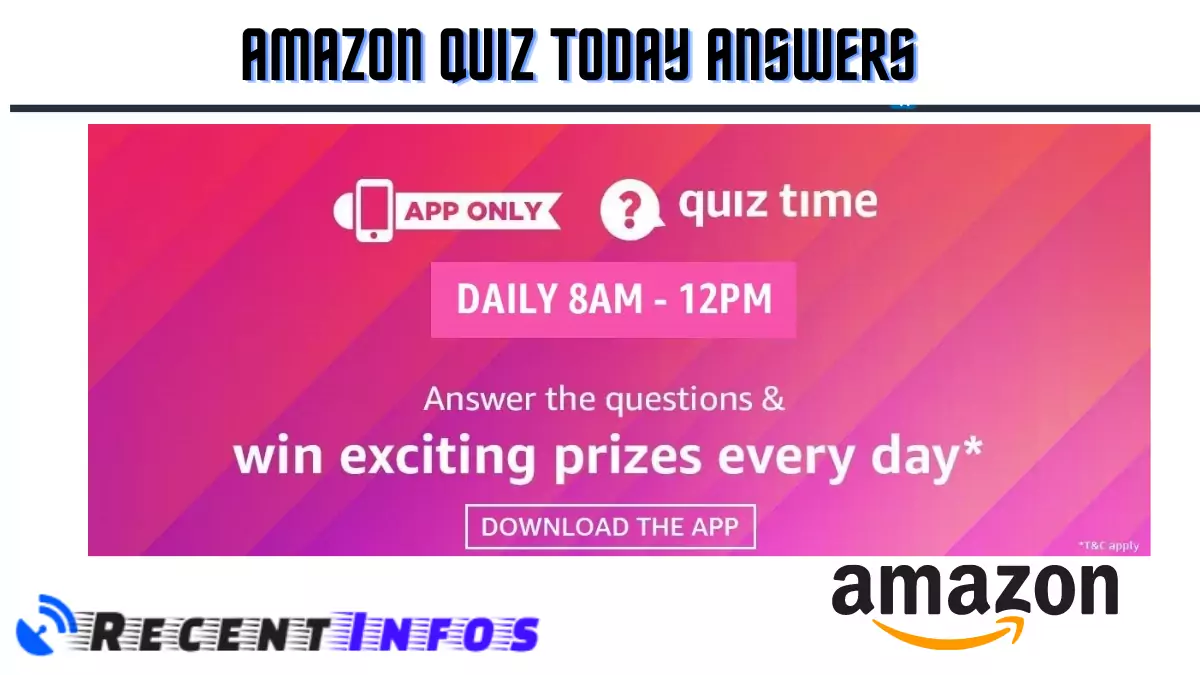 Hello Guys, welcome to our latest article on the topic of Amazon 13 March quiz answers, today we are going to provide you the answers of Amazon today Quiz, 13 March 2021.
Amazon Today Quiz Details
| | |
| --- | --- |
| Quiz Namer | Daily Quiz |
| Winning Prize | 5,000 Amazon Pay Balance |
| Start Date | 13 March 2021 (12 Am) |
| Winner Announce | 13 March 2021 (12 Pm) |
| Total Questions | 5 |
How to play Amazon Today Quiz
It is very simple to play amazon Today quiz, you just need to download amazon app or open amazon.in website in mobile version, there you can search for "Quiz" in search bar. After searching you will find the option of Fun-Zone, from where you can win prizes everyday.
Now, you just need to select the amazon 13 march 2021 quiz you want to play, after selecting the quiz you need to answer all the 5 questions correctly to win the prizes. The winner of the ongoing quiz will be announced after the end of quiz, and you can also check it in the winner section of amazon quiz section.
Amazon Today Quiz Answers: 13 March 2021
Q1: Which country is India helping to build the Shahtoot Dam?
Answer : Afghanistan
Q2: Which Australian cricketer recently won his third Allan Border Medal?
Answer : Steve Smith
Q3: To which animal is the current year (2021) dedicated, according to the Chinese calendar?
Answer : Ox
Q4: What is this Japanese dish traditionally wrapped in?
Answer : Seaweed
Q5: Which of the following car brands does NOT belong to this company?
Answer : Dodge
Also Read: Amazon Redmi Tv Quiz Answers: Give correct answers and Win Redmi Tv
Amazon Quiz 12 March 2021 : Answers
Q1: Robert Irwin has been awarded the Natural History Museum's Wildlife Photographer of the Year award 2020 for his drone image of what?
Answer : Bushfire in northern Australia
Q2: Al-Amal is the first ever uncrewed space exploration mission to Mars by which country?
Answer : UAE
Q3: In January 2021, who became the second Indian captain and Asian skipper to win a Test series in Australia?
Answer : Ajinkya Rahane
Q4: How many phases are there of this satellite?
Answer : 8
Q5: Which horoscope sign is associated with this sea creature?
Answer : Cancer
Amazon Samsung Galaxy M12 Quiz Answers
Question 1. What is the Highest Resolution (Mega Pixel) of the main Camera ?
Answer:- 48MP
Question 2. How many Rear Camera are present in Galaxy M12?
Answer:- 4
Question 3. What nanometer processor powers Galaxy M12?
Answer:- 8nm
Question 4. What is the battery Capacity of Galaxy M12?
Answer:- 6000mah
Question 5. What is the screen refresh rate of the Samsung Galaxy M12?
Answer:- 90Hz
Read More: Amazon Samsung galaxy M12 quiz answers
Conclusion: So, these are the answers if 5 questions asked in Amazon today quiz by which you can also win 5,000 Amazon Pay Balance. If you found all of these answers correct then share it with your family and friends who are also the users of Amazon and Likes to play amazon quiz's.