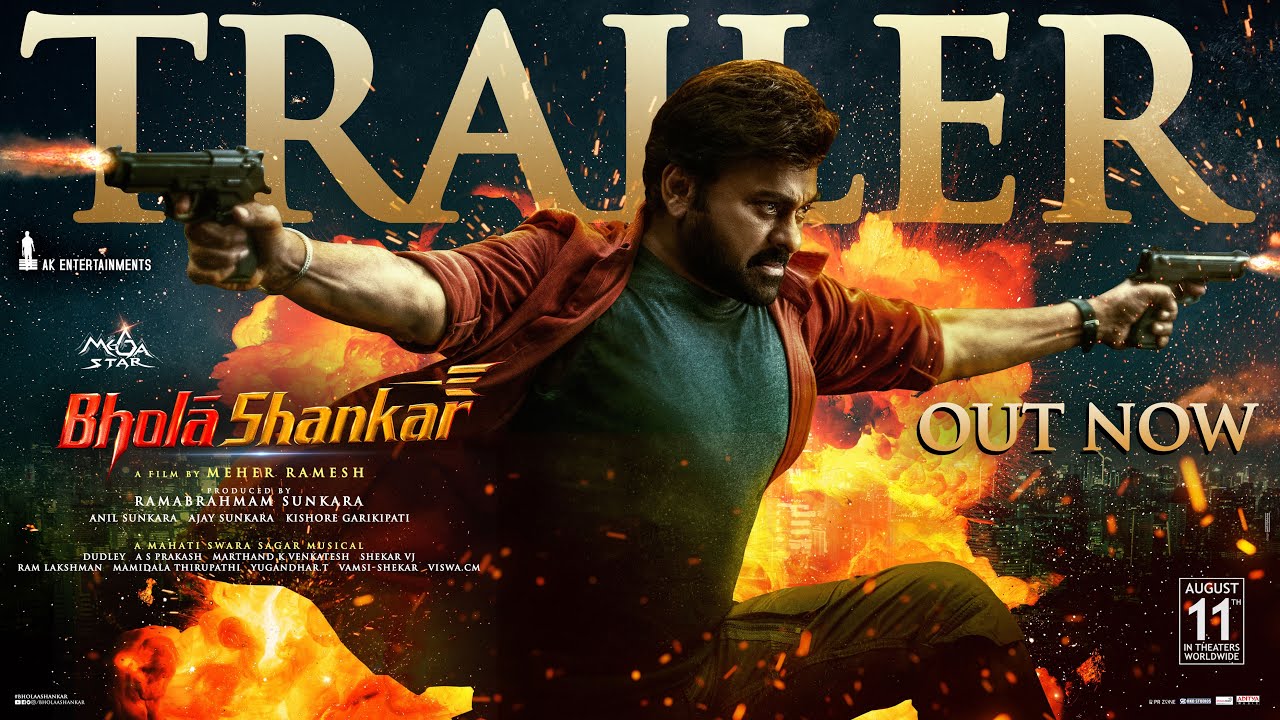 In a grand spectacle, Ram Charan, the star renowned on a global scale and son of the legendary actor Chiranjeevi, finally unveiled the long-awaited trailer for the adrenaline-pumping entertainer, 'Bholaa Shankar.' Under the masterful direction of the stylish filmmaker Meher Ramesh and produced lavishly by Ramabrahmam Sunkara, this cinematic marvel has sent ripples of excitement throughout the industry, driven by its dynamic and assertive promotional tactics.
With a burst of energy, the trailer transports us into the heart of Kolkata's bustling streets, where a series of kidnappings have thrown the city into a state of chaos and fear. The anguished parents of the missing young girls are left in despair while the relentless police force strains to crack the enigmatic puzzle behind these abductions and trace the elusive mastermind. But just when hope begins to wane, the enigmatic 'Bholaa Shankar' emerges, seizing control of the situation and vowing to rescue the abducted girls. With a promise of thrills and entertainment, the trailer tantalizes us as it unveils the intriguing lead characters one by one.
Happy to Release the Trailer of #BholaaShankar

Our Mega Star @KChiruTweets in his best forte in @MeherRamesh Stylish Mass Presentation!!https://t.co/owc7sByWKr

Can't wait to witness his energy on the big screen on August 11th

Best wishes to the entire team … pic.twitter.com/82IUn2tBW6

— Ram Charan (@AlwaysRamCharan) July 27, 2023
Stepping into the limelight, the legendary Megastar Chiranjeevi makes a grand entrance in his vintage avatar, exuding an unparalleled charisma and a magnetic screen presence. His performance not only dazzles in high-octane action sequences but also delights in lighter, more entertaining moments. The trailer even offers glimpses of delightful scenes where he playfully imitates other beloved actors like Rajesekhar and Pawan Kalyan, adding an extra dose of excitement.
The talented Tamannaah Bhatia impressively portrays the role of a lawyer, while Keerthy Suresh embodies Chiranjeevi's sister, and Sushanth embraces the character of her boyfriend. And adding to the brilliance of the film is the stellar supporting cast, with Vennela Kishore taking on the role of Bholaa Shankar's mentor.
'Bholaa Shankar' stands at the precipice of becoming an awe-inspiring action extravaganza, masterfully shaped by Meher Ramesh to enthrall not only the masses but also families from all walks of life. The movie's technical finesse is truly unmatched, with Dudley's breathtaking cinematography and Mahati Swara Sagar's enchanting musical score elevating the cinematic experience to unprecedented heights.
Behind the scenes, a formidable crew takes the helm, led by the skilled editor Marthand K Venkatesh and the visionary production designer AS Prakash. Guided by Satyanand's creative direction and enriched by Thirupathi Mamidala's skillful dialogues, the narrative is set to be a profound and unforgettable journey for the audience. Anticipation is soaring as the release of 'Bholaa Shankar' approaches, promising to be a blockbuster that combines action, drama, and stellar performances into an unmissable cinematic masterpiece.
Watch the 'Bholaa Shankar' Trailer below: