HIGHLIGHTS
• JioBook is launched in India through Government e-Marketplace (GeM) website.
• Available to only Government Departments and general availability might occur during Diwali.
• JioBook price in India at Rs 19,500/- as per GeM website.
JioBook Laptop in India is launched quietly and sold through Government e-Marketplace (GeM). The JioBook Laptop is already on display at the ongoing India Mobile Congress (IMC 2022) at Pragati Maidan in New Delhi. The JioBook Laptop is on sale in India at affordable laptop price as per the Government website. The JioBook is as expected and perfect for low budget laptop category. At present only Government officials can purchase the laptop through the Government eMarketplace (GeM) website however we expect it be launched to general public soon.

The listing of JioBook on the Government e-Marketplace (GeM) reveals the laptop's price, specifications, and entire design. Jio says the laptop is 'Made in India', which is why it is priced quite aggressively.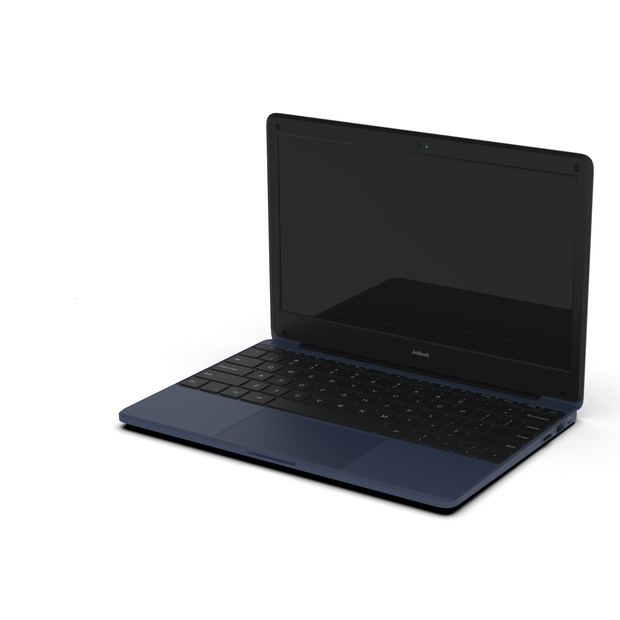 Jio Book Laptop Price in India and Availability
The JioBook Laptop is priced at Rs.19,500/- and is on sale via the Government e-Marketplace (GeM). As of now the website listing states only 10 units in stock but we might expect the stock will be filled soon. As mentioned earlier, only employees of Government Departments can purchase the laptop at the moment. It is speculated that the JioBook Laptop might be available to all starting Diwali 2022.

JioBook specifications

The Jio Book laptop has 11.6-inch HD display with a 1366×768 pixels resolution, it is powered by Qualcomm Snapdragon 665 Processor and for graphics with Adreno 610 GPU. The chipset used in JioBook is quite dated compared to present standards but considering the price, we cannot expect or complain much. The Jio Book 4G body is made of plastic and 'Jio' logo on the lid.

The Jio Book is equipped with 2 GB RAM and the storage details are not specified as of now. It stated that the laptop is running a custom version of the operating system, which could be dubbed as JioOS. There is also HD camera as well for video call and video recording. The JioBook comes with some pre-installed apps, a Microsoft Ad browser, and supports Jio Cloud PC. Jio Book comes with one year Warrenty.
Processor
| | |
| --- | --- |
| Processor Make | Qualcomm |
| Processor Generation | 1 |
| Number of Cores per Processor | 8 |
| Processor Base Frequency (GHz) | 2 |
| Processor Turbo Frequency (GHz) | 0 |
| Processor Description | Qualcomm Snapdragon 665 |
| Processor Number | SM6125 |
| Cache (MB) | 1 |
Construction
| | |
| --- | --- |
| Form Factor | Standard |
| Chassis Material | ABS Plastic |
| Hinges | Metallic |
Operating System
| | |
| --- | --- |
| Operating System (Factory Pre-Loaded) | JioOS |
Motherboard
| | |
| --- | --- |
| Expansion Slots (M Dot 2) | 0 |
Memory
| | |
| --- | --- |
| Type of RAM | LPDDR4X |
| RAM Size (GB) | 2 |
| RAM Speed (MHz) | 1866 |
| Total Numbers of DIMM Slots Available | 0 |
| Number of DIMM Slots populated | 0 |
| RAM Expandability up to( using spare DIMM Slots in GB) | 0 |
Storage
| | |
| --- | --- |
| Type of Drives used to populate the Internal Bays | eMMC |
| Number of Internal Bays populated with SSD | 0 |
| Capacity of each SSD (GB) | 0 |
| Total SSD Capacity (GB) | 0 |
| Capacity of Drive in case of eMMC (GB) | 32 |
Display
| | |
| --- | --- |
| Display Size (Inch) | 11.6 |
| Display Type | Non Touch |
| Display Technology | LED HD Backlit Antiglare |
| Panel Technology | TN |
| Display Resolution (Pixels) | 1366×768 |
| Resolution of Webcam integrated with display, if Available | HD |
Ports
| | |
| --- | --- |
| Number of USB Version 2 Point 0 Ports | 1 |
| Number of USB Version 3 point 0 / 3 point 1, Gen 1 Ports | 1 |
| Number of USB Version 3 point 1, Gen 2 Ports | 0 |
| Number of USB Type C Ports | 0 |
| Number of HDMI Ports | 1 |
| Number of Thunderbolt Port | 0 |
Connectivity
| | |
| --- | --- |
| Availability of Wireless Connectivity | Wi-Fi 802.11ac |
| Bluetooth Connectivity | Yes |
| If Yes, Version of Bluetooth Available | 5.0 |
| Availability of SD Card Slot | Micro |
| Mobile Broadband Connectivity | 4G |
Miscellaneous
| | |
| --- | --- |
| Availability of Internal Speaker | Dual |
| Availability of Integrated Microphone | Dual |
| Microphone in-Headphone out (Combo Port) | Yes |
| Type of Keyboard | Standard |
| Backlit Keyboard | No |
| Spill Resistant Keyboard | Yes |
| Pointing Device/Touchpad | Touchpad with multi-touch gestures enabled |
| Availability of Finger Print Reader | No |
| TPM Security | Not available |
| Carry Case | No |
| If Yes, Type of Carry Case | NA |
| Security Lock Slot | No |
| If Yes,Availability of Cable Lock | No |
| Weight (Including Battery) (Kilogram) | 1.0 to 1.2 |
Power
| | |
| --- | --- |
| Battery Type | Integrated |
| Battery Chemistry | Li – ion |
| Battery Capacity (Watt Hour) | 55.1 – 60 AH |
| Indicative Battery Backup Time (Hours) | 6.1 to 8 |
Warranty
| | |
| --- | --- |
| Battery Warranty (Year) | 1 |
| On Site OEM Warranty including Adaptor (Year) | 1 |
Source: GeM